Were you wondering why you saw more cyclists with backpacks on your way ot work this morning? According to The League of American Bicyclists (LoAB) today; Thursday May 8, is the official "Bike to Work" Day in California.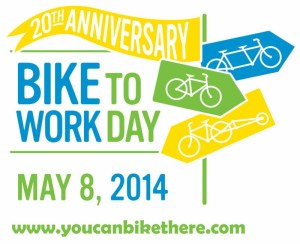 "What does that mean?" you ask? Well,… "Thousands of people across the country left their keys on the counter this morning, opting instead to grab their bicycle and ride to the office." said Liz Murphy, the Communications Director at the League of American Bicyclists. So, today is the official day to celebrate riding your bike to work.
How does "Bike to Work Day" affect you and I? If at possible and at some point today, get on your bike and go for a ride. Whether that means tackling your commute, enjoying a quick lunchtime ride or going out for an evening roll, as long as you're riding on two wheels, then that's a good day! I recently saw a quote on a BTWD poster, "Get your workout before you get your work in." That about sums it up for me. Since I work from the cozy confines of my home office, I elected to get out and hit one of the local trails on my mountain bike and yes, I rode my bike to the traihead. Ride on!